Benefits of Duct Repairs in Richmond That You Could Be Missing Out On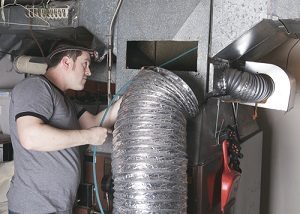 Homeowners all across the U.S., are missing out on getting an important service taken care of. Getting HVAC duct repairs in Richmond, KY is an essential task that too many homeowners put off, or ignore completely. If you have a home that is more than 5 years old, you should be thinking about getting it inspected for possible ductwork repair needs. Even newer homes should be checked and professionally cleaned out. The dirt and dust that is created, during the process of building your home, can settle in your ducts. This same dirt and dust will then become contaminants for your forced air heating and cooling system.
Top Benefits of Duct Repairs in Richmond, Kentucky
If you are considering getting your duct repairs taken care of, here are some things that you should be aware of:
Getting your ducts repaired will make your home more energy efficient because you will stop losing warmed or cooled air being transported through the ducts. This, in turn, makes it much more affordable to heat or cool your home. Plus, an energy-efficient home, is a more green or Eco-friendly home.
The quality of your air will be much better. Ducts in need of repairs let is outdoor pollutants, as well as draw air from areas of the home that are dusty and dirty. This forces you and your loved ones to breathe in contaminated air. Get repairs and seal any gaps, and you can improve the air quality in your home.
Once your ducts are repaired, you will also notice better air flow. When the air no longer has any place to escape to, along the way, it will all come out at the intended destination. You will notice that the air feels as though your HVAC is working better, just because the air in unable to leak out before it gets to where you want it to be.
If you suspect that you may be in need of duct repairs in Richmond , or have noticed it feels like your HVAC is not producing the right amount of hot or cool air, then you should have your ducts inspected. Even minor repair needs can cause big problems.
The Name to Trust
By calling on Madison HVAC/R Inc., you can rest assured that you are going to get the quality workmanship that you deserve. Our Richmond air conditioning company works with both residential and commercial clients and look forward to working with you. The changes in the quality of air and enhanced ability of your HVAC to perform, will be nothing short of amazing, once we complete your duct repair service needs.
Friendly Air Conditioning & Heating Professionals In KY
If you are looking for an air conditioning company that does duct repairs in Richmond, KY then please call 859-248-1280 or complete our online request form.