Richmond Heat Pump Repairs & Installation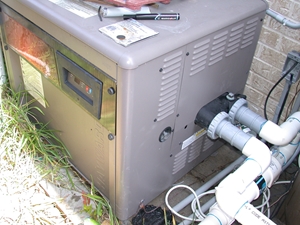 One of the most common sources for residential heat is the heat pump, and for plenty of great reasons. However, what is really vital is that you get the right team of experts to work with, in order to get the quality of service work that you need. This is why so many locals rely on Madison HVAC/R Inc. to get the job done when it comes to repairing and installing heat pumps in Richmond, KY and the surrounding areas.
We take great pride in the work that we do and that shows in the results that we are able to get for every single one of our customers. If you are still trying to decide which heating source would be best for you, we are just the company to call on. We will provide you with the information that you need, in order to make the best choice.
From there, we will also be able to provide you with the heating services that you need along the way. From installations and inspections to heating repairs and replacement, we have got you covered. Don't take chances when it comes to the level of quality that goes into caring for your home heating.
The Best Service for Heat Pumps From Our Skilled Technicians
A heat pump will provide your home with efficient heat for an affordable price. However, the key to keeping it running is addressing the need for repairs. Some common problems that can arise with heat pumps in the Richmond area include:
If your heat pump begins to have problems supplying enough heat, you need to call in a Richmond heating services expert. There are a number of reasons this may happen, including blocked ducts or clogged filters. But it could also be due to problems like poor refrigerant flow, thermostat issues or faulty valves.
Any new noises should also be checked out. Generally, your heat pump should run smoothly and quietly, without any sounds. However, if you do hear a new noise, call on our pros. This is especially true if you hear screeching or grinding.
One of the worst things that could happen is that your heat pump fails to turn on. This could be the thermostat or something electrical. Either way, it is an issue best addressed by an experienced industry expert.
Local Quality Service for Heat Pumps in Richmond
Too many homeowners think that they have to make the selection between an affordable Richmond heating contractor or a skilled one. You can rest easy knowing that, with Madison HVAC/R Inc., you get the best of both worlds. We look forward to having the opportunity to work with you and provide you with the superior workmanship and heating services that you and your family deserve.
Friendly Air Conditioning & Heating Professionals In KY
Latest Articles
Keeping Toasty in Richmond

If you rely on a gas furnace to keep your Richmond home warm during the cold winter nights then you know the need to have them maintained periodically and repaired immediately. And you should also kn […]

Richmond Electric Heating

If you want to improve your Richmond home then you would like to maximize the comfort of it by installing an electric heater. What is an electric heater? What does Richmond electric heating mean? It […]
If you are looking for geothermal heat pumps in Richmond or the surrounding areas of Kentucky, please call 859-248-1280 or complete our online request form.