Expert Duct Repairs in Richmond, KY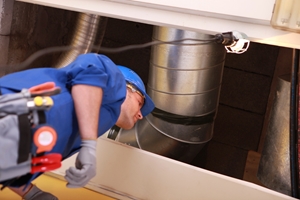 There are countless tasks you have to take care of when it comes to your home, and HVAC duct repairs are one of those essential chores. To make the work count, call on Madison HVAC/R Inc. in order to get the results you deserve. We have earned the impeccable reputation that we have by providing our clients with the best quality work possible, whether they call us for ductwork and air conditioning installations or duct repairs in Richmond.
Quality should always matter, when it comes to the work that is invested into any aspect of your home – including your heating and air conditioning ductwork. No one wants to have to address the need for any type of AC repairs, yet the sooner you get on top of it the better. The longer you let your duct repairs linger, the more extensive the damage there will be.
This is also why it is important to only work with the experts at our Richmond air conditioning company to get the job done because you can feel confident about the quality of work you get from us. We will provide you with skilled and efficient workmanship so that the final results will be even better than what you had hoped for. Call us today to find out more about what we have to offer you.
The Best Duct Repairs in Richmond From Our Skilled Technicians
Air duct repairs are a service that tends to get overlooked. Yet ignoring this issue can lead to big problems. Here are some things that you should know about duct repairs in Kentucky:
When air escapes from your ducts, this makes your home much less energy efficient. The problem with this is that it leads to costly energy bills. Not to mention, this makes your house less environmentally responsible.
Fixing your ducts will not only make your home more energy efficient, it will help your HVAC to perform better. Your system works hard to maintain the right temperature inside your home and the added strain associated with repair needs puts your system at risk of breaking down.
Procrastinating when it comes to repairing air ducts means that the inside of your home is exposed to poor air quality, including dirt and odors. That means your forced air system will push this inferior air quality into various rooms, putting your loved ones at risk of exposure to contaminated air.
Get your air duct repair work taken care of quickly and reliably by opting to hire our team of Richmond air conditioning service experts. We'll ensure your HVAC system's ducts are all in proper working order, delivering optimum heating and cooling to your home.
Local Quality Service for Your Duct Repair Needs
Let Madison HVAC/R Inc. take care of all of your duct repair needs in the Richmond, KY area. We work hard to provide all of our clients with nothing short of total satisfaction. Give us a call today to find out more about what AC services we can provide for you.
Friendly Air Conditioning & Heating Professionals In KY
If you are looking for a professional that offers HVAC duct repairs in Richmond or the surrounding areas of Kentucky, please call 859-248-1280 or complete our online request form.