The Furnace Repair Experts in Richmond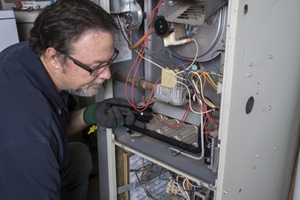 Opting to rely on a furnace to heat your home is a smart move, as long as you stay proactive about addressing the need for furnace repairs. This means not calling on just any heating company, but one with a special niche for furnace repairs in Richmond, KY. In other words, it means calling on our pros to get the job done.
Madison HVAC/R Inc. offers the best in quality service work, as well as personalized customer care. We know how stressful it can be to need repair work, in the midst of the coldest nights of winter. Which is why we also offer our heating services 24 hours a day and 7 days a week.
Our goal is to be able to keep your home heated and your loved ones safe and healthy. Don't put off getting minor repairs addressed because they can quickly develop into major furnace problems. Not to mention, running your system when it is in need of repairs will cause your energy bills to sky rocket.
The Best Furnace Repairs From Our Skilled Technicians
Furnaces are a great way to make your home more energy efficient. This saves you money on utility bills but also makes your home more environmentally responsible. Some of the common issues that you may run into with your electric or gas furnace are:
Furnaces are superior with heating, even through the coldest winter nights, without a backup heating source. So if your furnace is not generating enough heat it could be because the wrong sized unit was installed. Or, it could also be simply that the filters are dirty and clogged, blocking the air flow and making it impossible for the furnace to function properly.
If your furnace is too noisy you should certainly give our Richmond heating contractors a call. Noises such as rattling, squeaks or rumbling could be indicators that there is a mechanical problem. Any sort of noise you hear, that is not the norm for your system, call in an expert.
If your system frequently cycles between on and off, there could be a number of reasons for this. A clogged filter or thermostat issue are the two most common reasons for this.
If your furnace needs maintenance or you find your home in need of emergency heating repairs in the Richmond area, please give us a call. Our team of professional technicians will gladly come out to service your heating system.
Local Quality Furnace Repairs in Richmond
As soon as you suspect you need furnace repairs in Richmond , let Madison HVAC/R Inc. take a look for you. The sooner we can locate the culprit causing the issue, the sooner that your system can be back up and running. Don't put added stress on your furnace by forcing it to work while in a state of disrepair – it could lead to a total breakdown.
Friendly Air Conditioning & Heating Professionals In KY