Expert Tune-Ups & Air Conditioning Maintenance in Richmond, KY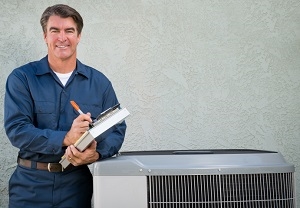 The key to keeping anything up and running when it comes to your cooling system is getting the necessary air conditioning maintenance in Richmond, KY. The key to getting the best in quality AC service is hiring Madison HVAC/R Inc. to address your service needs. Investing back into your air conditioner is the smart way to get peak performance and maximum longevity.
Yet not just any self-proclaimed expert should be trusted to handle this service for you. We have a keen eye for spotting red flags other so-called experts miss out on. Not to mention, our Richmond air conditioning company is widely regarded for our team's ability to creatively problem solve, on the spot.
You cannot expect to keep your system up and running, long term, without taking care of it. You also cannot expect the same level of quality maintenance and tune-up work from other HVAC companies. Let our seasoned pros provide you with the air conditioning services that you need and the results that you can live with, for years to come.
The Best Air Conditioning Maintenance in Richmond From Our Skilled Technicians
People who neglect to address the need for air conditioner maintenance and tune-up work usually do so only because they are not yet aware of the benefits of getting this done. Some of these advantages of scheduling annual air conditioning tune-ups in Richmond and nearby areas of Kentucky include:
You want your system to run cleanly and efficiently. Ignoring repair needs can lead to dirty and polluted air. Poor air quality puts your loved ones at risk of breathing contaminated air, which is especially alarming for anyone suffering from asthma, allergies or other respiratory-related health issues.
Keeping your cooling system running in a more energy efficient manner will help save you money on your utility bills. Plus, a more energy-efficient system means a more environmentally responsible one.
Getting maintenance and tune-up work, on a regular basis, is more cost-effective than waiting for your system to break down to alert you to the fact that something is wrong. Let our industry experts address your need for minor repairs before they can develop into major ones.
Letting a professional Richmond air conditioning service pro see behind the scenes and deal with potential red flags can also help prevent the likelihood of emergency AC repairs and premature air conditioner replacement.
Local Quality Service for Your AC Maintenance & Tune-Up Needs
Make the wise choice and let Madison HVAC/R Inc. address your need for quality maintenance and tune-up work. We look forward to partnering with you and keeping your system running. It's about optimal performance and maximizing longevity. So get in touch with us today and let's make sure that we have your service work scheduled.
Friendly Air Conditioning & Heating Professionals In KY
Latest Articles
The Importance of HVAC maintenance in Richmond

Sending heating, ventilating, or air conditioning units for repairs entails significant costs, so it is important to avoid future expenses through regular preventive maintenance. If you are a homeown […]

Whole Home Humidifiers and The Benefits They Offer

Dry indoor air can be a problem for many homeowners in Lexington and other areas of Kentucky. Not only does it make the environment more uncomfortable, it can have adverse health effects for a lot of […]
If you need to schedule air conditioning maintenance in Richmond or the surrounding areas of Kentucky, please call 859-248-1280 or complete our online request form.