Whole Home Humidifiers and The Benefits They Offer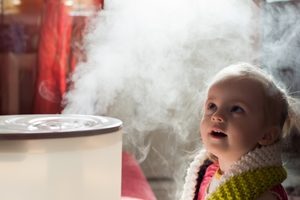 Dry indoor air can be a problem for many homeowners in Lexington and other areas of Kentucky. Not only does it make the environment more uncomfortable, it can have adverse health effects for a lot of people. Fortunately, there's a great solution to solve this problem rather than lugging a portable unit all over the house to treat just one room at a time, whole house humidifiers.
They treat the entire Lexington house all at once, which is very beneficial way to ensure the humidity is evenly distributed. Sensors within the unit offer accurate and automatic humidity treatments. By the time you move a portable to the next room and treat the air, the room you just treated is already getting contaminated again and it's all too easy to over treat or undertreat the space.
About Whole House Humidifier
There are many quality brands of whole house humidifiers to choose from. For instance, you can have quality humidifiers installed from Honeywell, Heil, Tempstar, and other trusted brands. It's a great way to improve the indoor air quality of any home.
The humidifiers will treat your entire home at once. They're installed directly into your HVAC system so they can work automatically and constantly to adjust the humidity level in every room of your house.
Benefits of Whole House Humidifiers
Gaining the right amount of humidity doesn't just improve your indoor air quality. It also assists in providing total home comfort for you and your family. Additionally, they help to prevent the drying of your carpeting, wood floors, cabinetry, and furnishings.
Dry air causes various problems for a family. If you're prone to getting sinus infections, bronchitis, or any other breathing illnesses, you can improve the indoor air quality of your home with a whole house humidifier installation.
Once the equipment is installed, you'll enjoy improved indoor air quality and the easy maintenance the system requires. Maintenance is easy, just call our Lexington Heating Contractors for professional heating maintenance service and we'll fine-tune your home's humidifier along with your HVAC system.
If it's time to look into whole house humidifiers for your Lexington area home, call Central Heating & Cooling to get a free estimate and consultation!
Friendly Air Conditioning & Heating Professionals In KY