Mobile Home Heating, Ventilation, & Air Conditioning Service For Richmond, KY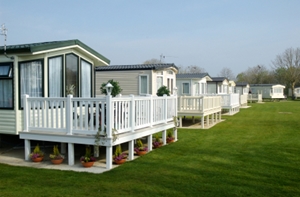 Addressing mobile home HVAC services in Richmond, KY is slightly unique from taking care of traditional residential systems. For this reason, it is important to work only with a professional trained and experienced in this field. Don't assume that any and all HVAC contractors are equipped to handle this type of system.
Getting service for your mobile home HVAC system is something that should only be carried out by a trained and experienced professional. In fact, you should make it a point to seek out a Richmond air conditioning company that offers services specific to this niche market, like our team at Madison HVAC/R Inc. We have all the credentials necessary to work on a variety of air conditioning and heating systems, such as residential, commercial and, more specifically, mobile homes.
Installing & Repairing Mobile Home Heating Systems
Each type of heating system, in each type of environment, is quite different. Yet too many so-called pros use the same one-size-fits all approach to the work they do. The problem is that this doesn't get you the results that you want and can lead to more issues down the road.
Our approach helps ensure long term success from the work that we do. This means enhanced performance and optimal longevity, with little repair needs along the way. Don't settle for anything but the best when it comes to your mobile home's heating services in Richmond .
The Best Service for Mobile Home HVAC From Our Skilled Technicians
So what kind of work can we offer for your mobile home's heating, ventilation and air conditioning? When it comes to the HVAC system in your mobile home, we can take care of tasks like:
The installation is the most important job, because it sets the precedence for how your system will perform, here on out. Shoddy or inferior installation work will lead to nothing but ongoing problems and repairs along the way, as well as higher energy bills each month. Eventually, it will lead to the need for replacement, long before it should be time.
Maintenance and tune-up work is also vital for long term performance from your system. Instead of waiting for repair needs to make themselves obvious, you should catch them before they can even take hold. Letting our experts see behind the scenes is the ideal approach to take, in order to prevent emergency repair needs.
We do, of course, also take care of repair services for mobile home HVAC systems, as well. If you notice your system is acting up, all you have to do is give us a call. We will take care of your service needs in a prompt and professional manner.
Mobile Home Air Conditioning Repairs, Replacements & Installations
Likewise, your mobile home's air conditioning unit requires a specialized degree of service. Mobile home AC systems aren't the same as residential units, and require different repair and maintenance needs. So what are some examples of common issues or differences that make mobile home systems differ from one another?
In a mobile home, the ducts are often near the floor. This can make them more vulnerable to damage. Not to mention, they often become dirtier quicker and easier which can lead to blockages or restrictions of necessary air flow.
Sometimes, the condenser unit of the split cooling system is not compatible with the furnace. Sticking with the same brand may help with compatibility but it is necessary to let someone with a specialty in mobile home systems address this problem.
Opting for a packaged unit or self-contained system can often times be a viable solution for a resource for heating and cooling that makes sense. This is the way to go for mobile homes that do not have the capability to accommodate split systems.
Don't take chances when it comes to the work invested into your cooling system for your mobile home. Let the experts here at Madison HVAC/R Inc. provide you with the quality workmanship and customer care that you need. Our expertise in mobile home air conditioning systems is part of what has helped us build the flawless reputation that we have as a local Richmond air conditioning company. We look forward to working with you and providing you with the level of quality work needed to make the most of your air conditioner.
Local Quality Service for Mobile Home HVAC Systems in Richmond
Don't delay, call today. Our experts here at Madison HVAC/R Inc. can help you establish HVAC service in the first place, as well as keep it running, along the way. We look forward to helping ensure that you get nothing but topnotch workmanship.
This is why locals know to call on Madison HVAC/R Inc. in order to get the work and results that they want for all their heating and air conditioning service needs. We have the credentials necessary to make the most of your job, no matter what type of job it is. From residential to commercial and even with a niche in mobile home HVAC service.
There are a lot of factors that play a role in what type of service you will need for your mobile home, such as the size or age of the residence. There is no cookie cutter, one size fits all approach to taking care of services for mobile home HVAC systems. So give our pros a call today and let us provide you with the service excellence that you deserve.
Friendly Air Conditioning & Heating Professionals In KY
If you are looking for mobile home HVAC services in Richmond or the surrounding areas of Kentucky, please call 859-248-1280 or complete our online request form.