Are You Looking for a Reputable Winchester Air Conditioning & Heating Contractor?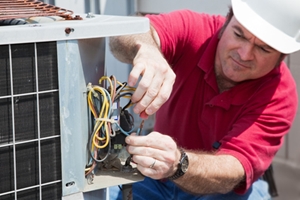 Quality should always matter, when it comes to your home, which is why you need a reputable Winchester air conditioning and heating contractor to work with. At Madison HVAC/R Inc., we are the local leading HVAC service provider, dedicated to service excellence. Our job is to keep your heating and cooling up and running, but our goal is to do so in a manner that will leave you 100% satisfied.
We offer a wide variety of important HVAC services in Winchester, Kentucky, including some for more than just heating and cooling. For instance, we offer an assortment of indoor air quality services, as well as commercial refrigeration. We work with both residential and commercial clients and offer emergency service, 24 hours a day and 7 days a week.
Our team also makes it a point to encourage clients to get proactive about preventative care. Scheduling maintenance and tune-up service is easier and less financial stress than having to deal with emergency repairs or, even worse, premature replacement. Let us provide you with the service work that you need, in order to get the results that you deserve.
Local Experts for Indoor Air Quality Services in Winchester, KY
Addressing the need for improving your indoor air quality is a responsible step to take. More than likely, you have something in place to purify the water you and your family consumes. Shouldn't it be the same for the air that you breathe?
Some of the indoor air quality services that we offer Winchester homeowners include:
Humidifiers – Your whole house humidifier will improve air quality by reintroducing moisture. This is crucial during winter months when your residential heating system makes the air dry and arid. However, this is actually an essential service to have, all year long.
HEPA Filters – This type of filter is responsible for eliminating airborne contaminants like dust mites and pet dander. You can actually feel the difference, once you start breathing the fresher and cleaner air.
Air Filtration Systems - This is another method to consider for cleaning the air inside your home. Keep in mind that these are very important additions to consider if you have someone in your house that suffers from asthma, allergies or other respiratory related health ailments.
Your Professional Winchester Heating & Air Conditioning Company
Madison HVAC/R Inc. is the only name that you need to know when it comes to getting exceptional service for your heating and air conditioning systems. We will work with you to try to maximize the longevity and enhance the performance. We care as much about your HVAC system as you do, if not more.
Whether you need air conditioning installation services or emergency heating repairs in Winchester, KY , you can rely on our team of professional technicians. Give us a call today to learn more about the quality heating and air conditioning services we provide.
*We have many coupons/specials on the web. In regards to any giving a 10% discount for something, the max discount is not to exceed $500.00. Any offer, discount, coupon, etc...cannot be combined with another. Any discount must be mentioned at time of setting appointment.
Reviews & Testimonials on Madison HVAC/R Inc. in Winchester, KY
There are currently no reviews or testimonials for Winchester, KY. Check back soon!
Friendly Air Conditioning & Heating Professionals In KY
If you are looking for a professional Winchester air conditioning or heating contractor, then please call Madison HVAC/R Inc. at 859-248-1280 or complete our online request form.