Are You Looking for a Reputable Ford Air Conditioning & Heating Contractor?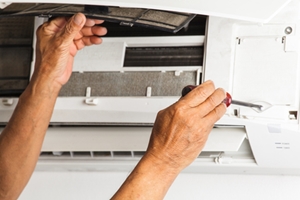 When you are in need of a Ford air conditioning and heating contractor , you want to feel that you are making the right choice. You want to be certain that you are partnering with a professional with genuine concern for each customer. Which is what has made us such a popular choice here at Madison HVAC/R Inc.
The truth of the matter is, our number one priority is always the job that we are working on. Other HVAC contractors will pass up or leave a job in order to focus on a more financially lucrative one. Yet with our team, from the moment you contact us to arrange your service request, you are the top priority.
This is also why we arrive in fully stocked work trucks, so that we can complete your project in a timely manner, without the need to leave for parts. We are also available to you 24 hours a day and 7 days a week because you don't get to choose when your heating or air conditioning repair emergency happens. Get in touch with us now and let us address your need for professional heating and air conditioning services in Ford, KY.
Local Experts for Air Conditioning Services in Ford, KY
We make it a point to try to address the needs of all of our clients, which is why we offer a variety of essential AC services such as:
AC Installation – The most important task for your air conditioner is the installation. Because if this is not handled properly, your system will never work the way that it should.
Mobile Home HVAC – Addressing the need for a mobile home HVAC takes a special kind of knowledge, and few industry experts bother to learn this trade. For our team, it happens to be one of our specialties.
Duct Repairs – If your ducts are in need of repairs, you cannot expect your cooling system to work the way it should. Our job is to go in and make repairs so you have better cooling and improved energy-efficiency.
Maintenance / Tune-Up – Taking care of your maintenance and tune-up work is the responsible way to get preventative care for your system.
Your Professional Ford Heating Contractor
When the weather turns cold for the winter, you want to be certain that you have a quality heating system to depend on. Madison HVAC/R Inc. can provide you with the service that you need in order to make that possible, from heating system installation and replacement work to emergency heating repairs in Ford, KY . Don't wait for your heating system to completely breakdown in order to find out there was something wrong, call us now for a tune-up.
*We have many coupons/specials on the web. In regards to any giving a 10% discount for something, the max discount is not to exceed $500.00. Any offer, discount, coupon, etc...cannot be combined with another. Any discount must be mentioned at time of setting appointment.
Reviews & Testimonials on Madison HVAC/R Inc. in Ford, KY
There are currently no reviews or testimonials for Ford, KY. Check back soon!
Friendly Air Conditioning & Heating Professionals In KY
If you are looking for a professional Ford air conditioning or heating contractor, then please call Madison HVAC/R Inc. at 859-248-1280 or complete our online request form.