Are You Looking for a Reputable Berea Air Conditioning & Heating Contractor?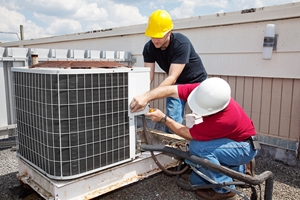 Finding the perfect professional Berea air conditioning or heating contractor doesn't have to be a daunting chore, especially since you already have the answer right in front of you. Madison HVAC/R Inc. is the only name that you need to know for all of your heating, cooling, indoor air and commercial refrigeration services. We have built the solid reputation we have as a local heating and air conditioning company by always going above and beyond to take care of our clients in Berea, KY.
You can rest assured that you will receive topnotch results from our more than qualified Berea heating and air conditioning service technicians. We provide the same level of excellence for our residential clients as we do our commercial ones.
We can also work on just about any type of air conditioner or heating system, as well as any make and model. We arrive with a fully stocked service truck so that we can complete your job in a prompt and professional manner. We look forward to working with you and providing you with the workmanship and results that you deserve.
Your Professional Berea Heating Repairs Contractor
One of the big questions that customers often have is about replacement versus heating repairs in Berea, KY . How do you know when the time is right and how do you know when it is just a self-proclaimed pro trying to persuade you to opt for the more expensive job?
Consider the age of your current heating source and know the expected lifespan of the type of system you have. If your system is still under the life expectancy, you may want a second opinion.
Also be realistic about the amount of preventative care you've invested along the way. If you have failed to schedule regular tune-ups or neglected obvious repair needs, it is likely that your system is not salvageable.
Compare the repair costs to the current value of your system. If your repairs are 50% or more of the value of your current system, it may make more sense to opt for replacement.
Of course, the best thing that you can do is work with a reputable Berea heating contractor so you don't have to worry about their motives or intentions.
Local Experts for Air Conditioning Services in Berea, KY
Madison HVAC/R Inc. can also provide you with service excellence when it comes to your air conditioning system as well. Keeping your AC up and running all through the hottest days of summer is just as important. So you will be glad you already know the name to entrust for both heating and air conditioning services in Berea, KY.
*We have many coupons/specials on the web. In regards to any giving a 10% discount for something, the max discount is not to exceed $500.00. Any offer, discount, coupon, etc...cannot be combined with another. Any discount must be mentioned at time of setting appointment.
Reviews & Testimonials on Madison HVAC/R Inc. in Berea, KY
There are currently no reviews or testimonials for Berea, KY. Check back soon!
Friendly Air Conditioning & Heating Professionals In KY
If you are looking for a professional Berea air conditioning or heating contractor, then please call Madison HVAC/R Inc. at 859-248-1280 or complete our online request form.